Now there are a huge number of drinks that differ in incredible taste, structure and aroma. Have you ever wondered how to make lychee jelly for bubble tea? This incredible lychee-flavoured bubble tea is a popular drink right now, which is a milk tea with bean and, of course, lychee.
As a result, we get a very stylish and amazing tea, in which the saturation is provided by the leaves of the tea, the sweetness and maddening aroma – lychee, the taste and softness – milk. And, of course, the bean is the key to the interestingness and structure of the drink.
When I began to get acquainted with drinks with the addition of a bean, I could not choose my favorites for a long time. But now I can safely highlight teas with the addition of lychee. They are my priority. And how without these bubbles? This is something! I am sure that from time to time you can afford such delicious drinks that are incredible from the aesthetic side.
Bubble tea is a drink made from tea and a variety of additives. It was invented in Taiwan in the early 1980s. This is a rather sweet and high-calorie milk tea served with chewy tapioca balls, also known as pearls.
And this drink is very easy to prepare at home. I suggest you familiarize yourself with the features of its creation.
Please note that in this case I mention bean, which indicates that tapioca pearls are used.
I needed to clarify this as there is always debate about whether it should be called bubble tea or boba.
What is Lychee Bubble Tea?
Bublle tea was first introduced to Taiwan in the 80s. It is popular not only in this country. He found a huge number of fans around the world.
It usually consists of sugar-sweetened milk tea as well as boba pearls, which is made from the starch of the cassava fruit, giving it a soft (or "Q") texture. There are many ways to make bubble tea, ranging from different flavors of tea and fruits to characteristic fillings.
One fun option would be Lychee Champagne Tea! He mixes classic milk tea with lychee infused syrup for easy lychee milk tea preparation. Along with the base syrup, the lychee chunks along with the syrup provide a fruity and delicious flavor. It has a lot of texture of crunchy pearls and diced fruit. The result is a soft, sweet and aromatic fruity bubble tea!
Lychee bubble tea: The Reason You'll Love It:
There is absolutely no way you can do this except with lychee and boba! It's unique!
Even though Lychee is considered an exotic product, it can be quickly and easily replicated at home. Having tried this tea once, you will be delighted and will hardly forget its taste!
It includes both sweet notes and fruity, tropical notes. It is thanks to this that a wide variety of flavors and bubble tea is provided.
Why not make a bubble tea very quickly at home?
The reason for the leadership of home bubble tea is that you control the quality of the products used. It is still known that some bean shops do not use all natural ingredients.
Refreshing properties
Is there anything healthier than a refreshing fruity iced tea in the middle of an incredibly hot day? This lychee infused milk tea is guaranteed to be the most satisfying thirst quencher ever!
Ingredients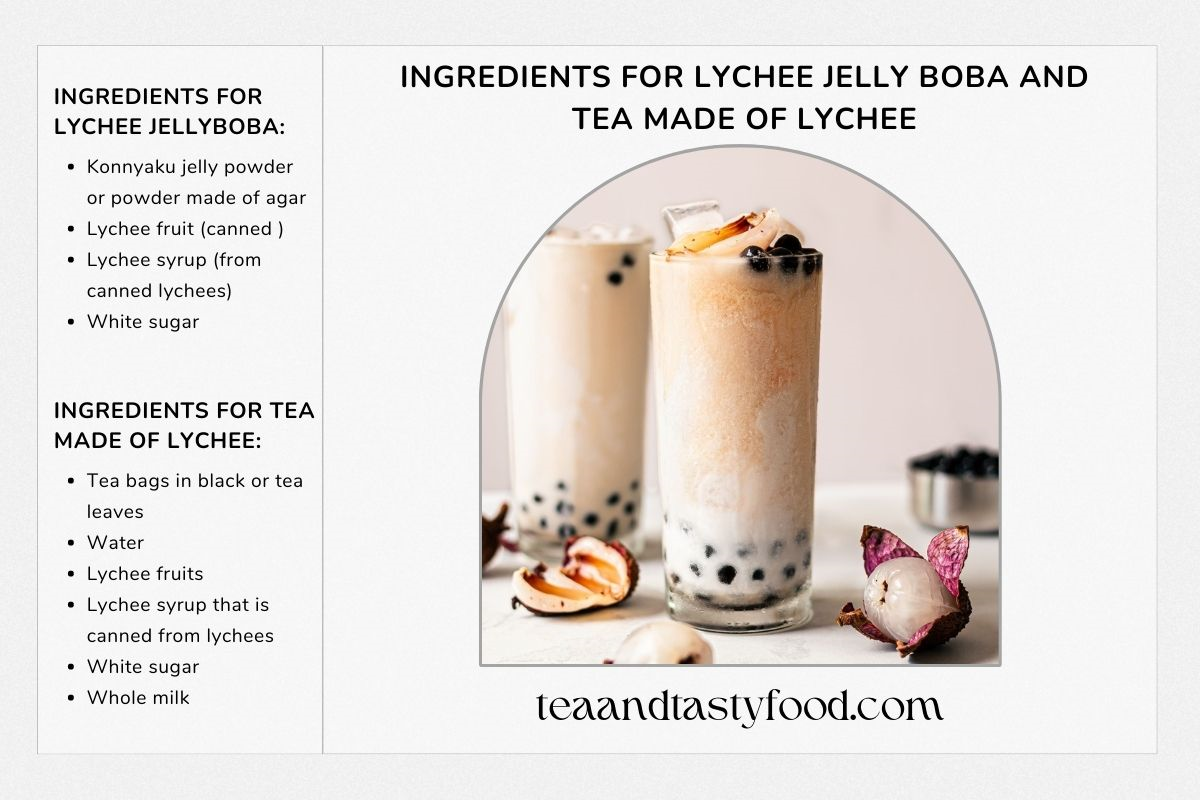 Boba: 1, 2, 3? Let's understand in detail
In short, three types of boba are now used to create drinks (albeit desserts and other dishes where appropriate). In this regard, if you are interested in how to make lychee jelly for bubble tea, I recommend understanding these varieties and their differences.
1. Tapioca boba
First, it's Tapioca Boba. This is a kind of classic in the preparation of bubble teas. The main ingredient for their preparation is cassava root. He is being crushed. Tapioca flour is mixed with brown sugar syrup, cut into shapes, and then boiled. Depending on what color and transparency they have, the size can be divided into 4 subcategories:
Clear Boba: These are transparent tapioca pearls that have little to no flavor of their own. They are tasteless. This is a great option for those cases where you need to emphasize the taste of tea or milk. They are commonly used in milk teas and they absorb the flavors of lychee bean tea and milk.
Dark-colored boba (usually brown or black): These types of tapioca pearls are immediately noticeable in your clear cup. Brown Boba is different in that brown sugar syrup is used in the preparation. The result is a brown color (or even black) and rich caramel-licorice flavor notes.
Affogato: These tapioca pearls are flavored with fruit juices. This is a great option for fruit teas.
Mini Bobs are identical to clear or brown Bobs, only they are smaller.
They all taste great in lychee flavored bubble tea.
2. Popping boba
The main difference between this type of boba is that they should not be chewed, but burst! Bean popping tastes juicy as it's fruit juice-filled bubbles that pop up in your mouth and release an explosion full of flavor. Recently, popping boba is gaining popularity due to its variety.
They are available in a variety of flavors, Lychee flavor being one of them. These balls are made from juice using molecular cooking techniques and are absolutely crazy.
Popping Bob's lychee can be used in place of tapioca pearls if you can find one. They are so delicious.
3. Jelly boba
They consist of the pulp of coconut or konjac. These jelly-like substances are flavored with a fruit juice base.
The great thing about jelly beans is that they can be stored for a long time without spoiling.
Jelly Boba vs Tapioca Boba
Tapioca pearls are a traditional type of boba. Like I said before, it's kind of a classic. However, this is different.
Although boba jelly was more often used in the preparation of various puddings and desserts. And only recently, lychee boba jelly began to appear in a variety of drinks, namely lychee boba tea.
The jelly boba does not need to be boiled. Whereas tapioca pearls needs to be prepared properly before use.
Tapioca pearls should be flavored with a sweetened fruit or brown sugar syrup, while boba jelly, on the other hand, is made using a variety of juices and syrups. The variety of flavors is amazing. Therefore, we do not need to add anything to make them tastier.
Once tapioca pearls has boba cooked, it should be consumed within one or two days. It is very important. Otherwise, it will deteriorate. And the refrigerator in this case will not save the situation too much.
We disassemble the components of lychee bubble tea: what Is Lychee?
Lychee is a tropical fruit that is widely distributed in Southeast Asia. The fruits are round and small, about the same size as strawberries – about 3-4 cm.
They are colored red when they are fully ripe. They have hard skin that is not used for food. Inside the fruit is an edible pulp, and in the core of each fruit is an incredibly long brown seed, which, like the peel, is not used for food.
Lychee pulp is juicy and sweet. Far away in it you can feel a reminder of citrus fruits. It smells like lychee in a way that you will remember forever. This is a sweet lychee fragrance that immediately speaks of its exoticism.
Lychees are good to eat not only as a fresh fruit, but also to add to pastries, as well as one of the ingredients for desserts. The fruit is used in numerous Asian drinks (including bubble tea lychee jelly) and desserts (lychee jelly syrup, lychee and tea, lychee lemonade, lychee tea, green tea, jasmine tea, lychee milk tea, and lychee ice cream).
While it can be difficult to find fresh lychees, they are readily available in canned food. You can buy canned lychee (in syrup) at the grocery store.
How To Make Lychee Jelly For Bubble Tea? What are lychee jellies made of?
Well, I'm sure you can't wait to get started on the cooking process. It's very simple and I'm sure you'll enjoy the result.
Agar-agar or konjac powder is usually used as the base components. It is thanks to them that it is possible to achieve the jelly shape and structure of Lychee Jelly. If you compare these two options, it can be noted that when taking the second option as a basis, you will get a more chewy texture.
Before I tried making lychee jelly, I looked at the vast amount of information and options available. I still propose to try glands from lychee based on konjac powder. But, you always have a choice and you can use traditional agar-agar.
Make lychee jelly: Step-by-step Guide
Well, remember the step-by-step instructions:
Step one: take the powder and sugar, mix together.
Second step: take a blender or food processor and put our lychee in the mixing bowl.
Step Three: Add water and lychee syrup to the lychee.
Step four: start mixing. As a result, we should get a uniform consistency.
Step Five: We take dishes for cooking with heat-resistant properties and pour lychee juice into it. Set the temperature to low.
Step six: it's time to add the jelly powder set aside in the first step mixed with sugar. You need to add them to the resulting lychee juice and mix well. We cook it on a small fire until we see that the sugar and powder have dissolved.
Step seven: it is worth paying attention that when cooking, the liquid will gradually evaporate. This allows you to get a more concentrated solution. That is why it is important that the temperature of the plate is low.
Step eight: we get the jelly mixture. We take a baking sheet, wait until the jelly cools down and then distribute it over the surface of the baking sheet. Next, put it in the refrigerator so that our lychee jelly is completely frozen.
How to make lychee jelly for bubble tea [stage two]: Cutting the Jelly Bob
Have you forgotten about our delicious lychee jelly? I think it should have been chilled in the fridge by now. So, we can start cutting it, which in the future will create delicious bubble tea.
We take our pan. You can cut it right away (in which case be careful not to damage the surface of the baking sheet) or you can transfer the jelly sheet to a cutting board.
To shift the jelly, I give you a few recommendations, since the process is not the easiest:
First of all, you need to separate the edges of the jelly from the baking sheet.
Next, I divided the layer of lychee jelly into two parts and cut it.
I shift the halves to suitable boards or large plates.
Well, now we can proceed directly to cutting. The pieces should be large enough to fit through bubble tea straws. But at the same time, the cubes should be visible in the tea with lychee jelly.
After you cut the jelly, transfer it to a bowl and put it back in the refrigerator. It is recommended to get it directly during the preparation of bubble tea.
Assembling Lychee Jelly Boba Tea (Lychee Bubble Tea)
Pour the lychee jelly boba into a glass of water.
Serve with milk tea. Serve with ice cubes, if you want, and serve.
Instructions On How To Make The Lychee Bubble Tea Step-By-Step
Step 1. Cooking Boba
Step 1: Take a pot and water. Bring to a boil.
Step two: take the bean. Take what is at hand. It is not at all necessary to use strictly what is indicated in the recipe, because there are several varieties of them. They will help make your drink unforgettable and crazy.
Step Three: Gently add the tapioca balls to the water. Cook a little – 1-2 minutes is enough. For reliability, you should pay attention to the recommendations of the manufacturer.
Step 4: Remove from heat and set aside.
Step Five: Add 50-70 ml of water and sugar to the pan (you can use not only brown, but also the more traditional white). Cook until completely dissolved.
Step six: first, cool the boiled syrup a little. Then we add it to our unique pearls.
Please note: the time and features of the preparation of pearls may differ depending on their type and size. Always read what the manufacturer says.
Step 2 – Brewing tea to the milk tea with lychee
You can not only use the type of tea (jasmine tea, green tea, black tea, etc.) that you like best, but also use the brewing method that you like best. In my experience, it doesn't really matter.
Boil the water, let it stand for a while until it reaches the optimum temperature for your type of tea. You can use both tea bags and loose tea.
In the first case, let the drink brew a little, then remove the bags and set them aside. Let the drink cool down a bit.
When using loose leaf tea, strain the drink to remove the leaves.
Step 3: Making the lychee juice/puree
If you're using fresh lychee take 8-9 peeled lychees. Remove the pit. Put them into the food processor and blend until they form a smooth puree. Then strain the mixture to eliminate any ant pulp chunks that are there is left.
The straining process is completely optional and you can use the puree in its entirety. Let the syrup you have strained chill in the refrigerator before you make the Lychee Milk Tea.
If you are using canned lychee, add a little more as canned lychees are not as flavorful. You can even use lychee syrup to sweeten tapioca pearls.
Step 4: Assembling the lychee bubble tea
Well, we can say that this is the finish line. We have all the ingredients you need to make delicious lychee bubble tea.
The above ingredients are needed for 2 glasses of bubble tea. You can increase them according to how many servings you need.
Collecting our drink:
First, take the tapioca pearls.
Add a small amount of sugar syrup. Please note: if you want to use cream for coffee, then sugar syrup will be superfluous.
Next, we send our lychee jelly to the glass.
Next – tea, which we prepared in advance. I remind you that you can experiment. It can be green tea, any herbal tea, black tea, etc.
Mix the ingredients for distribution and extravaganza of taste.
Add ice cubes and pour milk.
And now the most important step! close the glass and shake the lychee bubble tea well. As a result, we have bubbles, which are an integral component of this drink.
It's time to enjoy your work! Take a straw for lychee bubble tea and savor it!
Pieces of incredible lychee, favorite tea, tapioca balls – mmm.. what could be better for you?
Make The Lychee Milk Tea
Place water in a pot of a small size.
The heat should be turned to medium and allow the water to get to a boil. Then turn off the heat, and add the tea bags.
Cover the lychee bubble tea and let it sit for 3 minutes to steep.
The lid should be removed, and take out the tea bags. Make sure you squeeze the tea into the tea bags using a spoon. Then throw away the bags.
Pour the lychee boba tea into the milk. Mix to combine.
Incorporate sugar into the tea. Stir to dissolve.
Make Ahead And Storage lychee bubble tea
Storage: Store each component separately and then assemble them right before consumption.
I wouldn't suggest conserving cooked tapioca pearls as they'll become hard in the fridge. Instead, you should eat them on the day off and prepare them fresh every time.
Tea that has been brewed can be kept in a glass jar with a lid that is tight. Store it in the refrigerator for at least three days. It will turn cloudy, but that won't alter the flavor.
If you've used all the boba, but still have syrup of brown sugar and honey and want to make it available for use in any cocktail or drink. It can be stored in a jar and kept in the refrigerator until five days.
Make the boba ahead of time: Always make the Boba the day before since it's most delicious when it's fresh and warm prepared. You can, however, brew the tea, prepare syrup, and cut the lychee as much as three days ahead.
Keep your prescription card so you don't lose it!
How To Make Lychee Jelly For Bubble Tea FAQs
What is lychee jelly in bubble tea made of?
Lychee jelly is nothing more than a traditional jelly that is made from the juice and pulp of the fruit (although canned lychee can also be used) and a stabilizing agent such as agar-agar or another.
Like many other additives, lychee jelly is added to a variety of bubble teas. can be described as a jelly dessert made from tropical lychee fruit.
But this is far from its only purpose. Lychee jelly can also be used as an independent dessert, topping for other sweet dishes, and even in pastries.
How is bubble tea jelly made?
Despite the huge number of myths, it must be clearly stated that they are not made from gelatin. The pulp of coconut or konjar, plants can be used as a base. These ingredients are very popular in Asian countries, where they are used in many recipes for sweets and snacks.
Latest posts by Helena Tasty
(see all)